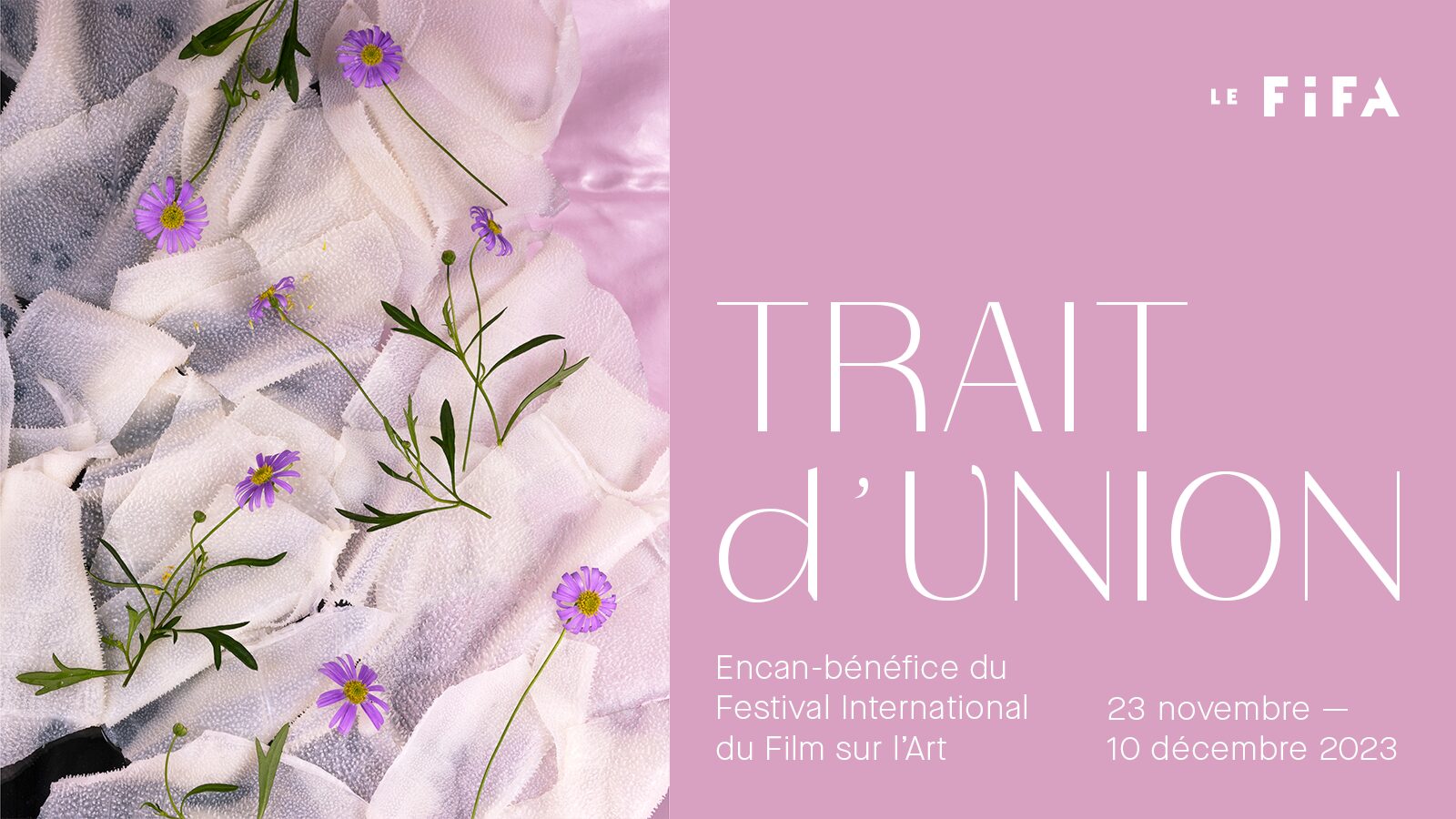 TRAIT-D'UNION – Le FIFA's Online benefit auction
For the past 4 years, the International Festival of Films on Art (Le FIFA) has invited all art lovers and actors of the contemporary art scene to participate in its online fundraising auction in partnership with the renowned Canadian auction house BYDealers.
No premiums or sales taxes

Your invaluable contribution to this fundraising event will help FIFA to INCREASE knowledge and appreciation of art among the Quebec public, PROMOTE the production and dissemination of films about art, SUPPORT local creators in the fields of film, video and the visual arts, OFFER a glimpse of current creation from around the world, ENCOURAGE transdisciplinarity and STIMULATE Quebec's up-and-coming artists.
4

th edition — From November

23

to December

10

,

2023
Paintings, photographs, collages, sculptures, prints, serigraphs… Digital art, textile art, porcelain… Renowned artists, emerging artists, surprise artists, over 100 works accessible to all budgets will be auctioned online on the website of our partner BYDealers. All details about the auction will also be shared through social networks, Facebook, Instagram, LinkedIn, and via newsletter.
Thanks to our partners ByDealers, Encadrex and Photosynthèse!
This 4th edition is draped in an aura of excellence, with an exceptional honorary committee chaired by Lionel Pardin.
Membres du comité d'honneur :
Lionel Pardin, Rouge On Blue founder and strategist, HEC lecturer and President of the Board of Je Passe Partout.
Claude Brunet, Lawyer and Deputy Secretary of Le FIFA Board of Directors
Dr. Nicolas Chevrier, Psychologist and President, Sequoia Psychological Services and President of Le FIFA Board of Directors
Patrick J. Clune, President of Digital Cut Post-Production and Administrator of Le FIFA Board of Directors
Stanley Février, Visual artist
Nadine Lajoie, President and Founder Stylissime Communications
Stefanie Roy, Architect OAQ and artist