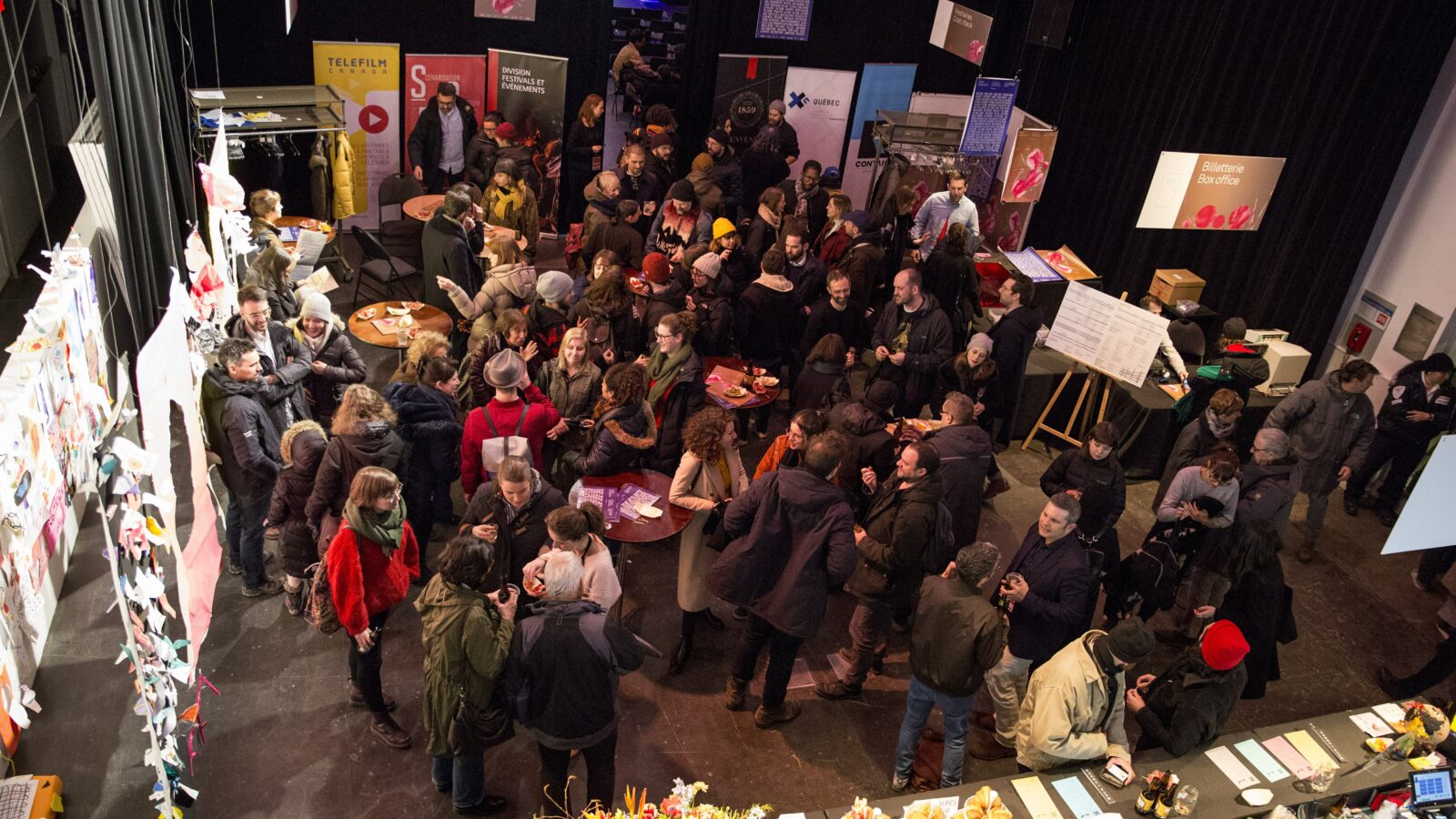 FIFA

Connexions
For professionals of films on art
For nearly forty years, FIFA has been dedicated to the international promotion and distribution of films on art and media arts.

As a component of the Festival, FIFA Connexions invites cultural producers and distributors, artists, and platforms to come and discuss issues around production and distribution through panels, interviews, and conversations open to the general public.
FIFA

Connexions offers an unmissable program of Festival events:
COMPOSITE

#

30

x

FIFA

AND

THINKWELL

STUDIO

MONTRÉAL
FIFA Connexions organizes the 30th Composite taking place on March 17, 2022.
COMPOSITE is a bi-monthly networking event dedicated to digital creativity. It was born from an initiative of the Conseil des arts de Montréal, and is now coordinated by MAPP_MTL in collaboration with other important actors of the Montreal digital scene.
This event aims to create a recurrent meeting space between the art and industry of the digital sector, by encouraging the meeting and pollination between creators, artist-run centers, organizations, companies and digital professionals.
Each COMPOSITE takes place around 3 major moments:

1. Blitz Minute Inspiration introduces the evening: 10 digital actors each have one minute to share an announcement that has recently impacted, inspired or touched them.
2. 6 keynote presentations of 6 minutes each, projects selected by the COMPOSITE committee through a call for participants. They can be from the art world, industry or social innovation; the common thread is their ability to inspire, stimulate innovation and awaken in the audience a desire for discovery and exploration.
3. An evening of networking and discussion to allow both presenters and participants to network and develop their respective projects.
More details about Composite here.

Don't miss any news about Composite #30 and join our event on Facebook: https://​fb​.me/​e​/​4​h​I​U​U7U23
This event is sold out.
ABOUT THINKWELL STUDIO MONTRÉAL:
Thinkwell Studio Montreal has been a leader in the design and production of cutting-edge of cutting-edge interactive technologies and immersive experiences.
Its award-winning team of designers, developers and producers are constantly inventing and refining new tools and technology tools and technology platforms for the creation of immersive experiences, including data tracking, artificial intelligence, real-time projection generation and recognition systems. and recognition systems.
These interactive breakthroughs are all developed in-house and in-house and used in cutting-edge creative projects for museums, attractions, branded experiences, the hospitality industry, and more, around the world.
To learn more about more, visit https://​thinkwellmontreal​.com/.

Danced films and society: for a new impact
More details about this activity here.
Come and discover committed artists and producers, their artistic approaches and why they have chosen to use dance film to contribute to making things happen by opening up new spaces for citizen dialogue around major contemporary issues.
The Migration Dance Film Project is a cycle of danced films produced by director Marlene Millar and choreographer Sandy Silva around the theme MIGRATION. In 2017, they shot their 5th film in France in collaboration with the DAN.CIN.LAB team led by Anna Alexandre, an artistic platform dedicated to projects crossing dance and cinema around social issues.
In 2019, DAN.CIN.LAB launches with 4 other European partners — Coorpi (Italy), MØZ (Greece), Malakta (Finland) and Tanzrauschen (Germany) — a new project, mAPs — migrating Artists Project, combining mentoring, inclusive actions and research around the production of a collection of 5 short films on a common theme, POWER.
Screening in the presence of:
Aline-Sitoé N'Diaye: director of Emersion — French film from the mAPs collection,
Anna Alexandre : producer and director of DAN.CIN.LAB, leader of the mAPs project
Marlene Millar: director and producer of The Migration Dance Film Project,
Sandy Silva: choreographer and producer of The Migration Dance Film Project
The first Art Film Festival Symposium
FIFA invites the directors of art film festivals to meet on March 16 and 17 to work together on common objectives.
Through this dynamic, the ultimate goal is to improve the circulation of films between festivals, institutions and different art film actors, thanks to the links created throughout the world.
Sharing knowledge, discovering practical cases and highlighting solutions for the public and professionals will be the aspirations of FIFA for this symposium.
By invitation only.

The artists' happy hour
On Thursday, March 16 at 5:00 p.m., FIFA is giving an appointment to the professionals of this 40th edition to meet and exchange in a friendly atmosphere.

By invitation only. For information, contact connexions@​lefifa.​com.