11.01.2021
Le
FIFA

will open its

41

st edition in Quebec City with a grand evening on Riopelle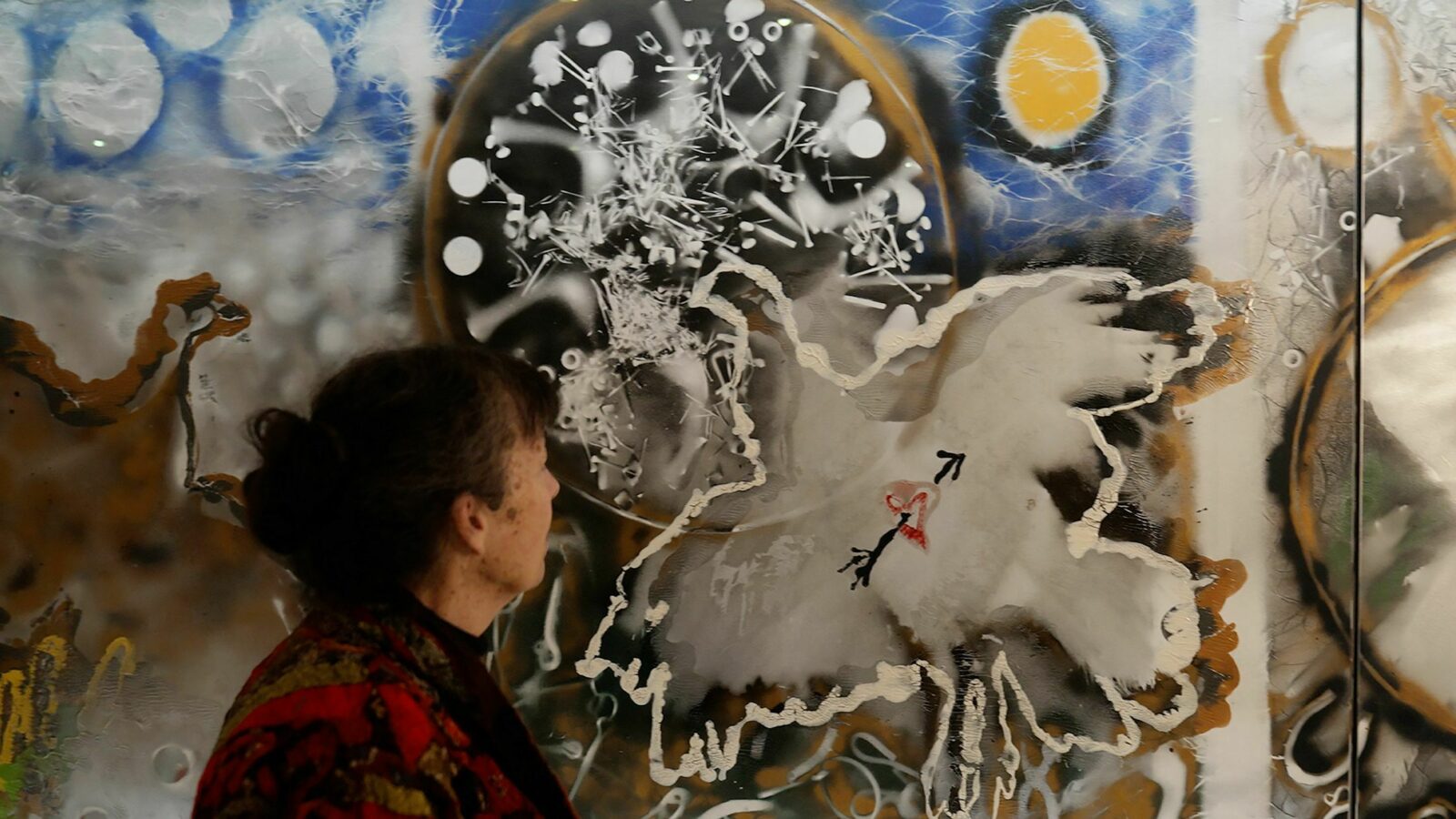 The International Festival of Films on Art (Le FIFA) is pleased to announce that the film Les oies de Jean Paul Riopelle by Jean-Luc Dupuis will open its 41st edition at the Musée national des beaux-arts du Québec from March 15 to 26.
The film will be screened in the museum's Sandra and Alain Bouchard Auditorium on March 15, preceded by the presentation of five short films inspired by the creative process and themes dear to the internationally renowned Quebec artist and directed by recent graduates of the Institut national de l'image et du son (L'inis). A project made possible by the generous support of the Fondation Riopelle and the Fondation Audain, in collaboration with FIFA.
A screening in the presence of the filmmakers.
Ticketing information at www​.mnbaq​.org
Les oies de Jean Paul Riopelle and Riopelle en courts are presented on March 15 at 7pm in the Sandra and Alain Bouchard Auditorium of the MNBAQ, in the presence of director Jean-Luc Dupuis and the filmmakers of the Riopelle en courts project.
These films will be presented in Montreal on March 19 and will also be available online from March 24 on ARTS.FILM, the FIFA online art film platform, until April 2.

The documentary film Les oies de Jean Paul Riopelle plunges us into the artistic and intimate universe of the internationally renowned Quebec painter. With the participation of those closest to him, including his daughter Yseult Riopelle and his last companion Huguette Vachon, the documentary offers us a privileged look at the creation of his emblematic work Rosa Luxemburg, inspired by the migratory bird that so fascinated Riopelle. We will also discover the testimonies of personalities from the art world, such as Marc Seguin, Champlain Charest, John Porter, Guy Sioui Durand, André Desmarais, Gilles Gagné, Lise Gauvin, René Viau and other guests who have marked the painter's career. A captivating journey to the heart of the Île-aux-Oies studio, where art and nature merge to give life to a masterful work.



ABOUT THE DIRECTOR

My father was a doctor with a passion for photography. His photos filled the walls of our playroom. I was fascinated by them and would spend long periods of time looking at them, especially those that had won awards. One day, I too would see things differently. I was inspired by composition and creation. My career as a doctor took up all my time.

One day, an encounter changed my life, convincing me that it's never too late, and to photography was added the passion for filming.
The film Les oies de Jean Paul Riopelle will be preceded by the world premiere screening of the Riopelle en courts project, five short films made by recent graduates of the Institut national de l'image et du son (L'inis). This project was made possible thanks to the generous support of the Fondation Riopelle and the Fondation Audain, in collaboration with Le FIFA.

Five winners, selected by a jury as part of a competition, benefited from the guidance and coaching of one of Quebec's most award-winning directors and screenwriters, Charles Binamé, in the realization of their film project. The resulting collection is a work of art in itself, divided into five colourful and unique tableaux.

This project was made possible by the generous support of the Fondation Riopelle and the Fondation Audain. In addition to the prestigious FIFA platform, the short films will be shown around the world in 2023 as part of a partnership to be publicly announced by the Fondation Riopelle in the coming weeks.

Five unique perspectives on Riopelle's work

De peindre, mes os sont devenus poussière by Laetitia Demessence

This film takes its inspiration from the white colour that is present throughout the oeuvre of Jean Paul Riopelle – the white of mourning, snow and geese, the white of the imprint of objects placed on a canvas before being spray painted as a stencil. This colour, sometimes used to contrast with the others, sometimes covering an entire canvas, seems to point to a void in which the man who suffers from osteoporosis is falling. Like a sigh of the creative gesture seeking to fill an absence.

A graduate of the 2021 – 2022 Writing program (Feature film profile), Laetitia Demessence is a Franco-Spanish director and screenwriter who grew up in Spain, Indonesia and Chile, before settling in Québec. She explores filmmaking through short films, music videos and dance films. Laetitia is currently working on the pre-production of her first fiction feature, Oraison, which she developed at L'inis and which is funded by Telefilm Canada's Talents to Watch Program.
Phanères by Héloïse Bargain

Dander is a human body material such as hair or nails. We cherish them when they are part of our bodies, while they are seen as repulsive once they shed from our bodies. The film resonates with the gentle brutality of Jean Paul Riopelle​'s abstractions. On canvas, hair has replaced paint and the painter's surge of freedom has turned into a violent desire for movement and change.


A graduate of the 2020 Documentary program (Production profile), Héloïse Bargain is a director based in Montreal. After years of journalism at Radio-Canada in Acadia and Manitoba, she moved to Russia for two years to produce long-format reports for the Moscow Times. Back in Montreal, she joined L'inis where she directed the films Jocelyne et Serge as well as La Bouilloire, which was awarded the prize for best experimental film at the 2022 Quebec Student Film Festival. She is currently in artistic residency at Les Films de l'Autre.
Movimentum by Anaïs Venegas-Grün

From the impulses of the body to the union of nature, painting and music become a trance of creation. An impetus that is as internal as it is external gives birth to an experience and a world of moving lights.


A graduate of the 2020 Mixed — Documentary and Fiction program (Production profile), Anaïs Venegas-Grün is a director, screenwriter and visual artist. She is passionate about queer cinema, on-screen representation and spirituality. She loves creating and transforming feelings into matter. The physical and the metaphysical always serve to discover life, and then intertwine in creation. All actions are for the love of humanity and cinema.

Riopelle était non-binaire by Aimé Majeau Beauchamp

Through a fictional dialogue with Jean Paul Riopelle, this experimental film updates the painter's heritage by seeking to build bridges with today's generation. Between a tribute and a self-portrait, Riopelle was non-binary is above all an intimate reflection on the courage to be oneself.


From production to photography direction, research and production, Aimé Majeau Beauchamp has worked for more than five years creating audiovisual and radio content, including a series currently in production for Radio-Canada's Ohdio platform. A graduate of the 2021 Documentary program (Production profile), they also produced the audio documentary series J'en perd mes mots with TFO in 2020. Having studied political science and feminism at UQAM, Aimé is particularly interested in marginality, identity and culture.

Kaléidoscope lyrique by Jonathan Goyette

Kaléidoscope lyrique is executed in the manner of Riopelle, settling down in front of a blank canvas with the dizziness of not being able to see the final result before it reveals itself, obeying only to the calls of vital impetus and intuition. While Riopelle sculpted paint, the film presents frescoes made from inks, chemicals and natural products applied to 16 and 35 mm film, with the underlying desire to transform experimental and abstract material into a narrative poem paying tribute to the oeuvre of the master.


A graduate of the 2019 – 2020 Writing program (Feature film profile) and member of the Kino movement, Jonathan Goyette has scripted, directed and self-produced several short films, some of which have been selected by festivals such as the Canada Shorts Film Festival, and Image+Nation. He is currently working on the script for his very first feature film as well as on short films. He is also interested in the hybridity between cinematographic genres as well as the effects of the obsession with performance on people and the environment. Also an author, Jonathan has published a collection of fictional short stories, Le saboteur d'avenir, with L'Interligne.