11.11.2021
ARTS

.

FILM

inaugurates a collection dedicated to the vocal ensemble Les Rugissants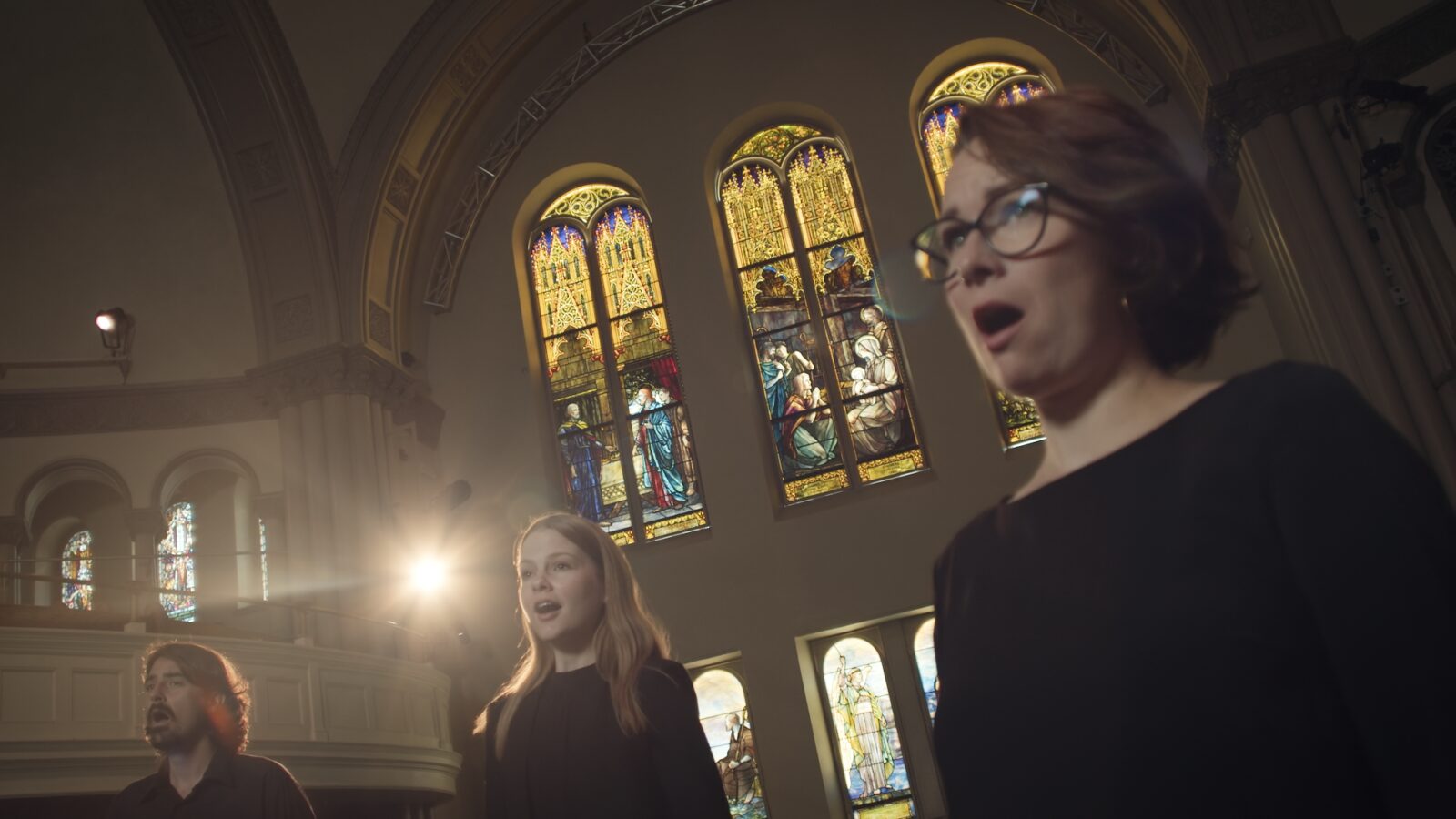 ARTS.FILM is pleased to partner with the Montréal vocal ensemble Les Rugissants to present its collection Vues sur Les Rugissants. Available online free of charge for one month starting November 12, this special collection, a series of videos featuring the Les Rugissants choir, fits within ARTS.FILM​'s mission of contributing to bring innovative and visionary Québec artists to light.
In this first series of strolling videos directed by Alexandre De Bellefeuille, the vocal ensemble updates what classical music can offer by combining architecture and music. Here, we discover – or rediscover – the history and architecture of Bourgie Hall at the Montreal Museum of Fine Arts by experiencing two extraordinary musical performances: one by the vocal ensemble Les Rugissants, led by Xavier Brossard-Ménard; the other by Jean-Willy Kunz, artistic director of the Canadian International Organ Competition and organist in residence for the Montréal Symphony Orchestra since 2013.
This project results from a partnership of Les Rugissants, Héritage MTL, Bourgie Hall, and the Canadian International Organ Competition.
These videos, which are the first in a coming series, will be available to view free of charge on ARTS.FILM from Sunday, November 12, 2021, at midnight, to Sunday, December 12, 2021, 11:59 pm (EST).
ARCHES : Salle Bourgie
Délius à la Salle Bourgie
Sweelinck à la Salle Bourgie

ABOUT LES RUGISSANTS
Based in Montréal since 2017, the vocal ensemble Les Rugissants brings together some of the best singers in the city, who come from different regions of Canada and the United States. Presenting a high-quality repertoire and a wide variety of styles, the ensemble works actively in its community. Currently in cultural residency in the Sud-Ouest borough of Montréal, Les Rugissants is led by conductor Xavier Brossard-Ménard. A talent scout for artists (singers and instrumentalists) at Le Cirque du Soleil from 2017 to 2020, Brossard-Ménard has led a number of well-known ensembles, including Les Muses Chorale, the Toronto Children's Chorus, the McGill Conservatory Singers, the Chœur des jeunes de la Faculté de musique de l'Université de Montréal, and the chorus at the École de musique Vincent‑d'Indy, and he was artist in residence at the F.A.C.E School. An experienced chamber music clarinetist, he has also been artistic director of the ensemble QAT, which received the LOJIQ-RIDEAU scholarship and the Prix de tournée from Conseil des arts de Montréal for the show 1938.