02.23.2022
Le
FIFA

unveils the program for its

40

th edition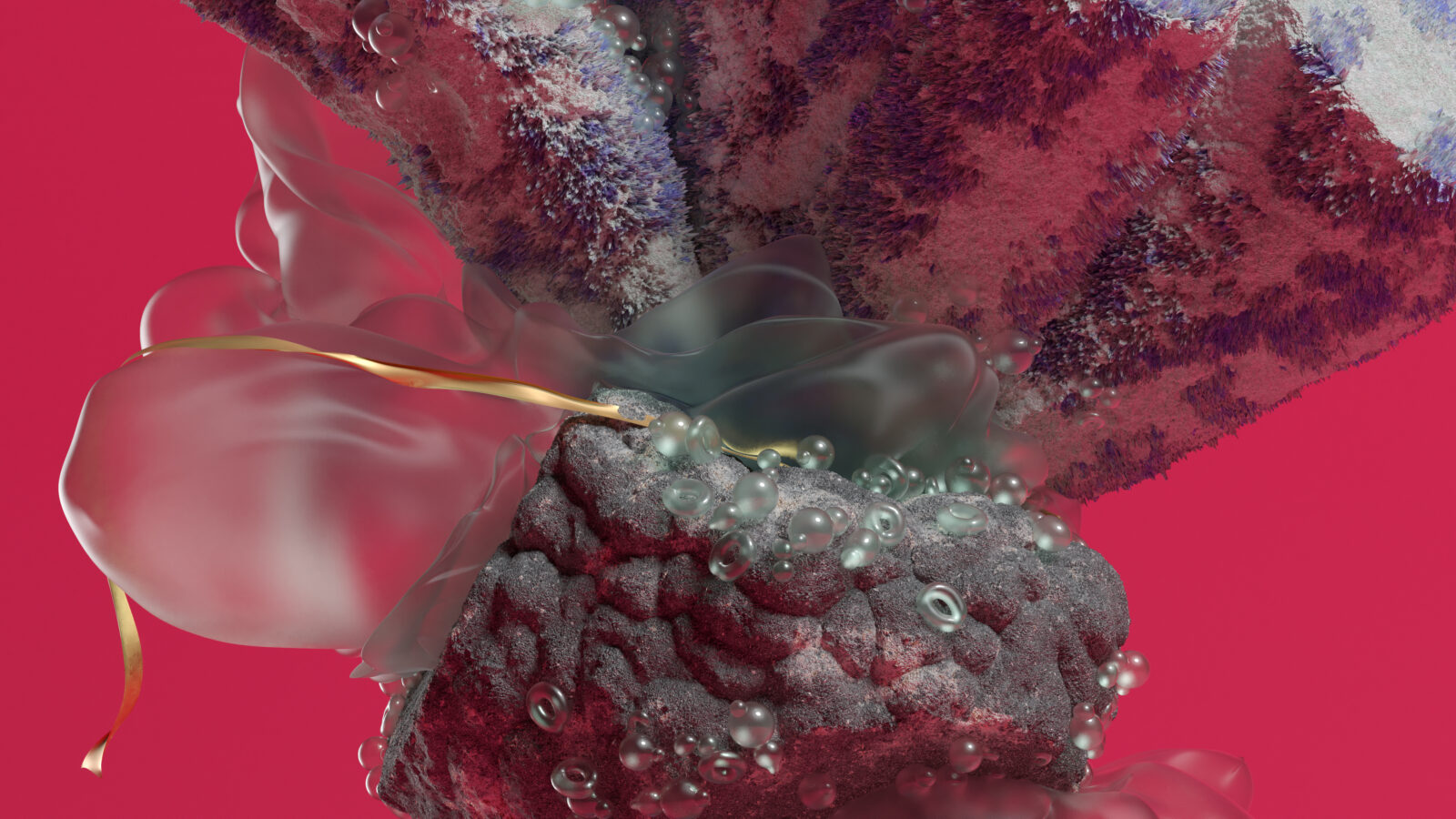 This year, the International Festival of Films on Art celebrates its 40th anniversary, and today it unveils the program for its new edition, which will take place March 15 – 27, online and in theatres.
A platform for all creations and all celebrations, the biggest festival of films on art in the world is proud to unveil the program for its 40th edition, in a spirit of renewal, dialogue, and festivity.
Always guided by artistic excellence, always in step with the latest film productions, this year the Festival will, more than ever, give the floor to visionary artists from Québec and elsewhere, to great cultural institutions, and to the creators of tomorrow.
Le FIFA is determined to make art accessible to as many people as possible, and devoted to making each edition a place for meeting, sharing, discovering, and celebrating. With these clear perspectives, this 40th anniversary will be a wonderful get-together.
In a world of moving and constantly evolving images, Le FIFA holds a unique and irreplaceable position. And with more than 1,000 films submitted this year — a record number — the 40th edition of Le FIFA is here to remind us that art is more vital than ever. Let the party begin!


Let's celebrate. Together.
What began 40 years ago is continuing today: from a wild idea blossomed what would become the biggest festival of films on art in the world. And for 13 days, we'll celebrate it together. This sentence might have seemed commonplace a few years ago, but today we understand its value.
And yet, being together is not so simple.
Today, as we are all hoping to emerge from a trying period, we have a choice before us: what world do we want to (re)build together? It's not true that we want to go back to the way things were before. It's not true that these last years haven't taught us anything. Let's take the time to make choices together about our (re)building.
Let's offer ourselves the luxury of inspiration. Let's learn to (re)connect to the people around us, get to know each other (again). Let's have debates, enjoy our divergences, listen to our differences, whether they shout or whisper. Let's (re)discover each other.
Le FIFA gives the floor to artists from five continents, past and present. By their basic act of offering us their art to look at, listen to, and experience, they share their world with us. Their films all contain the desires, fears, angers, joys tears, vulnerabilities, and ecstasies of our world.
We haven't seen each other for way too long. Let's (re)find each other.
Getting together doesn't mean simply sharing a place or a screen. It's not just being together. It's (re)looking at, (re)seeing, and (re)recognizing each other.
I wish you a 40th edition full of riches and discoveries. Dare to reach out toward others. Dare to watch films that you wouldn't have watched. Don't let algorithms rule. Make the choice of adventure, of renewal.
And for all these reasons, let's celebrate. Together.

Philippe U. del Drago

Let the party begin!
The 40th edition in numbers: 209 titles / 46 countries / 1 online screening space / 8 theatres / 3 pop-up theatres / 18 feature-length films in competition / 20 short films in competition / 6 prizes / 50 world premieres / 59 North American premieres / 36 Canadian premieres / 66 Canadian titles

PLATFORM OF EXCELLENCE, FROM HERE AND ELSEWHERE
Infused with the creative energy of the featured filmmakers and artists, the competition for the 40th edition testifies to the artistic richness of today's world.
This year, thanks to a vast network of institutional partners and artists across the country, the Festival is proud to share five Canadian projects in feature-length competition, including three Québec films presented as world premieres.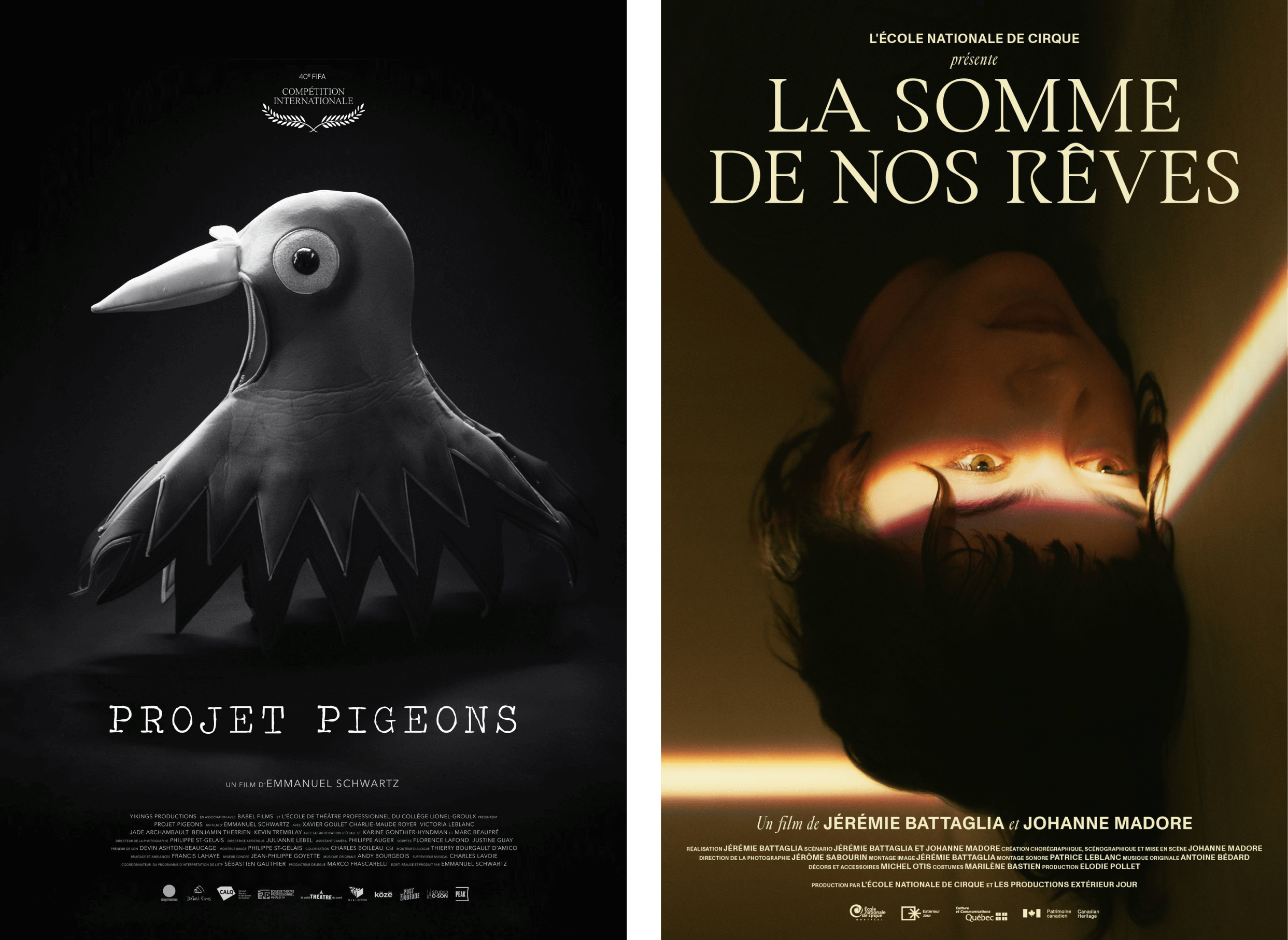 Québec actor and playwright Emmanuel Schwartz will present his first fiction feature film, the moving and sensitive Projet Pigeons. Jérémie Battaglia and Johanne Madore co-directed La somme de nos rêves, a captivating film that mixes circus, dance, and film. And Hugo Latulippe​'s vibrant documentary Je me soulève, borne by the words of actors and directors Gabrielle Côté and Véronique Côté, will open the Festival.
With 46 countries represented in its program, the Festival continues to open perspectives and points of view.
From the loss to the recovery of Indigenous culture in Australia, through the journey of the dance troupe Bangarra, in Wayne Blair​'s Firestarter – The Story of Bangarra, to the construction of an improbable museum in Ramallah in Judith Abensour​'s Foedora and the history of an extraordinary theatrical adventure in Sierra Leone in Clive Patterson​'s Sing, Freetown, the 40th edition of Le FIFA invites us to travel and open ourselves to dialogue.



Longs-métrages compétition
Courts-métrages compétition
The members of the prestigious juries for the 40th edition are recognized by critics and the general public for their creativity, their careers, and their influence in Canada and abroad.
The jury for the international feature-length competition is composed of Evelyne Brochu, actor, Canada; Silvia Lucchesi, director, Lo schermo dell'arte, Italy; Jean-Jacques Peretti, programmer, Sunny Side of the Doc, France; Vincent Rimbaux, author and director, Emmy Award winner, Brazil/​France; and Joanna Raczynska, film programmer and curator, National Gallery of Art, United States.


The jury for the international short film competition is composed of Miryam Charles, director, Montréal; Audrey Genois, executive director, Momenta, Montréal ; and Sanghoon Lee, programmer, Busan International Short Film Festival, South Korea.


THE PRIZES
Six prizes will be awarded by the juries: Grand Prize, Jury Prize, Prize for Best Essay, Prize for Best Portrait, Prize for Best Canadian Feature-Length Film, and Prize for Best Short Film.

PLATFORM FOR ALL CREATORS

Charles Trenet, Jean-Michel Basquiat, Jacques Tati, Joan Mitchell, Georgia O'Keeffe, Amos Oz, Alexandra Kollontaï, and Marguerite Duras: the International Festival of Films on Art offers a unique opportunity to discover — or rediscover — the careers of mythical figures through inspiring portraits.
Angélique Kidjo, Jonas Kaufmann, Jean-Michel Folon, Carlos Cruz-Diez, Daniel Day-Lewis, Anthony Hopkins, Tadao Ando, Dani Karavan. Discover sensitive, eloquent and luminous stories by visionary artists.

Hofesh Shechter, Margie Gillis, Louise Lecavalier, Édouard Lock, Louise Bédard, Mistaya Hemingway, Mélanie Demers, and many others. The artists from the world of dance are celebrated through a special night devoted to them, to which audiences always in search of movement are invited. A great celebration of dance and film, La Nuit de la danse is a seven-hour marathon of screenings for an unforgettable experience at the Outremont Theatre.

PLATFORM FOR ALL CELEBRATIONS
In theatres, through an exceptional collaboration with the Opéra national de Paris and the screening event of the new production of FAUST (Gounod) directed by Tobias Kratzer.
"The new jubilant Faust by Tobias Kratzer." (Le Monde)
"A devilishly cheeky Faust." (Le Figaro)

At Place des Arts and in Holt Renfrew Ogilvy's Tudor Hall, the Festival creates two original screening spaces open to all, with continuous, free pop-up presentations including the Carte Blanche curated by Aseman Sabet, in collaboration with MUTEK, and by Marley Hansen of NOWNESS, as well as our music video section offered by our new programmer, Leticia Trandafir.


PLATFORM FOR ALL GAZES
We can (re)discover our own world through the eyes of artists. It is with this idea in mind that the Festival gives the floor each year to other cultural witnesses and conveyors. This year, Le FIFA invited:

Silvana Fiorese – Festival Dart, Barcelona, Spain
Silvia Lucchesi – Lo schermo dell'arte, Florence, Italy
Joyce Joumaa – Montréal – in collaboration with Momenta
Yu Shimizu – VIPO, Tokyo, Japan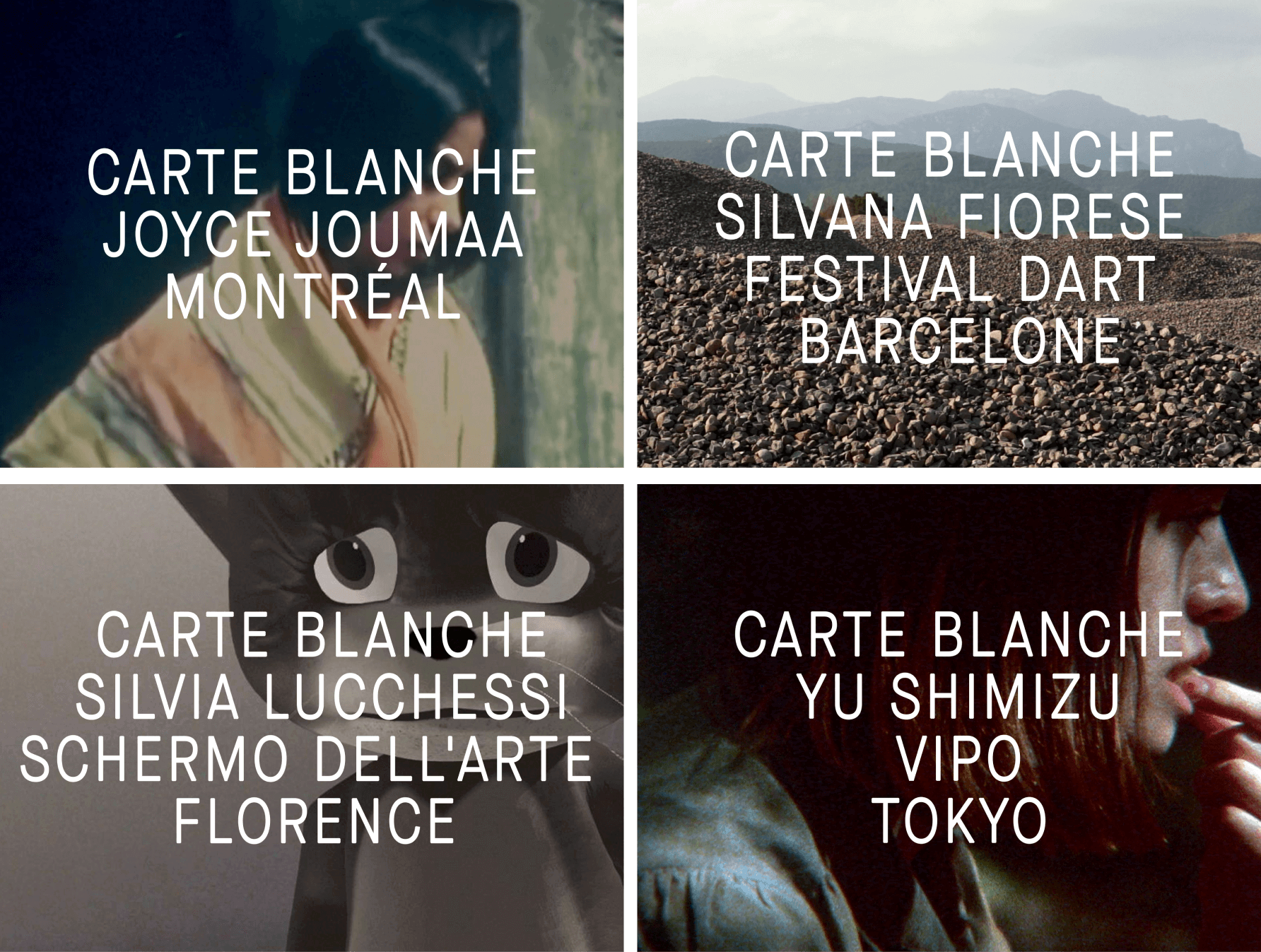 At the far reaches of creativity, FIFA Experimental offers the avant-garde of films on art. Organized for the 20th year by curator Nicole Gingras, the FIFA Experimental section brings together 15 recent works for this edition, most of them previously unseen, made by 18 artists from various countries. FIFA Experimental highlights contemporary artists with unique signatures — artists who think of film and video as tools for exploring the creative process.
To discover: two recent feature-length films by artist Dora García, taking a generous and enlightened look at the history of feminisms. Also, 13 short films brought together in three thematic programs: listening or movement that links words, light, and sound; the notion of the mosaic offering a constellation of points of view; and the impact of sensory experiences on memory as driving force for creating an artwork. This year, an interesting feature of the FIFA Experimental section is that a number of the works were developed by two or three people working closely together.

PLATFORM FOR ALL CREATIONS
The wide variety of films in the program for the 40th edition promises to thrill lovers of film and of art in all its forms. Dance, photography, architecture, and music are some of the disciplines highlighted this year.
Engaged art; Exceptional women; Art, nature, and territory; Short-format creations; Behind the creative scenes; Travel; Architecture, heritage, and design; History and culture; Québec artists. Beyond art disciplines, Le FIFA also offers experiential paths that provide different points of entry and discovery of this program of more than 200 titles.

The 40th edition of Le FIFA in 12 links


All of the programming for the 40th edition of Le FIFA will be available online from March 15 to March 27, 2022. For the screenings in theatres, the Festival's teams will do everything to welcome you under the best conditions, in compliance with governmental health directives. These directives are subject to change. We count on your vigilance and your comprehension with respect to the usual barrier activities and the measures adapted to each venue so that the Festival will be peaceful and safe. Consult our website—www​.lefifa​.com—for a full schedule of the festivities.

Get your passport for the 40th! All the details on our offers here.